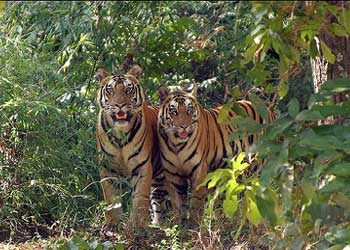 For the 2.5 lakh Tharus and Dhangars living for centuries in an area known as the Doan --- 40-odd square kilometres of undulating topography full of knife-edged ravines formed by years of landslips and soil erosion, the Indian tiger is the lesser threat than a forest warden. The area crisscrossed by seasonal rivulets such as the Panchanad, Bhapsa and the Bhalawi, is host to 93 villages split between two panchayats, and lying in the Valmikinagar Tiger Sanctuary's buffer zone.
During the past year the Forest department has slapped over 200 cases against residents of these villages citing infringement of various clauses of the Forest Act.
In certain cases the entire village population --- of Bhurahwa and Gobrahiya for instance, neat tiny villages amidst dense Sal forests --- has been charged with either encroaching upon the Sanctuary land or carrying out commerce in forest produce.
"In the last five years, Doan's Tharus and Dhangars have thrice been told to vacate their homesteads that they have been occupying for centuries. We have been also told, that the government does not recognize our Harsingha (the right to plough) and Gharsingha (the right to construct a house) on land granted to us by the erstwhile Bettiah Raj. They say our land pattas (land rights and grants) are worthless scraps of paper. The uncertainty that we live under is killing," said Satyanarain Rana, a Gumasta or a village head at Champapur, deep within the Doan.
Villagers at Bhurahwa, Dhokni, Chilaiyatanr and Bankatwa—among the most backward of the Doan's villages allege, that forest guards often conduct surprise raids in the 51 buffer zone Doan villages, seizing everything from livestock to freshly threshed grains on the pretext of searching for felled timber.
Most Tharus say that they had given up felling trees after the Sanctuary's core area was declared a tiger reserve in 1989. There are, however, Tharu villages that have the Forest department's permission to collect fallen timber and maybe tap a beehive for honey.
"Why them," wondered Chandeshwar Bhagat of Sherwa village, insisting that forest guards book them on tree-felling charges in order to divert attention from their inability to prevent Nepalese criminals from carting away truckloads of precious teak from in and around the sanctuary's Madanpur range -- a stone's throw from Susta in India and Ratanganj and Rani Nagar in Nepal.
Forest officials at Bagaha admitted as much. But insisted that they stopped short of running the smugglers down because of the ' tenuous relationship that exists between India and Nepal, particularly after the Communist Party of Nepal (Maoists) acquired social legitimacy and joined that country's political mainstream'.
"The department recognizes the rights of residents of 42 villages as these were included in the survey carried out by the department prior to the sanctuary's notification in 1978. We even allow them to graze their cattle herds though this invariably attracts the wild animals that inhabit the adjoining Nepal's Chitwan Wildlife Park," a Forest department official said.
Bison and the one-horned rhinoceros from the adjoining Chitwan Wildlife Park in Nepal very often stray into Tharu villages causing intensive damage to standing crops.